Carousel carvings are now a treasured art form, an active focus of preservationists, museums, historians and collectors. It is hard to imagine that carousel operators once trashed their wooden horses and menagerie animals, burying or burning them in favor of homely, lower maintenance aluminum castings. And nobody seemed to care. A number of factors coincided to create a revolution of consciousness. One of those elements was the Flying Horses catalog.
| | |
| --- | --- |
| The first shot in the revolution was fired by New York City historian Frederick Fried in 1964. His A Pictorial History of the Carousel chronicled the robust development of carousel manufacture in the U.S., giving identity and artistic stature to such formerly anonymous carvers as Charles Looff, Daniel Muller, Salvatore Cernigliaro and Marcus Charles Illions. Fried's scholarship also conferred stature and encouragement to legions of closet carousel fans who discovered they were no longer alone. | |
Jo was one of those fans, though she was much less isolated than most; she had a lifelong motivation and a five year jump start into outreach and research prior to Fried's contribution. The image of her beloved horses, turned to cinders by the overnight conflagration of the Long Beach, CA, Looff machine, had burned as an unquenchable flame into her ten-year-old soul. That smoldering trauma was both quenched and rekindled when Rol presented Jo with a little horse for their second wedding anniversary in 1959. Jo scoured the informational wasteland that summer trying to find any clue to the origins of wooden horses. She learned eventually that their horse was German but that, contrary to popular myth, most of the carvings in this country were not. The most interesting merry-go- rounds, with the most diverse and creative styles of carving, were made in the U.S.A. But where, and by whom?
The answers came in the book. More answers and intriguing new questions emerged from an exciting 1966 visit to Fred and Mary Fried in their Manhattan townhouse. Thanks to the book, Jo and Rol had already developed a particular interest in M.C. Illions. Now they learned that Illions' son, Rudy, lived a stone's throw from Rolling Hills in Ocean Park, California. They sought Rudy out at his Looff carousel in Pacific Ocean Park. He was distrustful of their intense interest at first. Carousel fans and carousel families were equally estranged back then, sort of like townies and carnies. "What makes these kids want to pry into our family business?"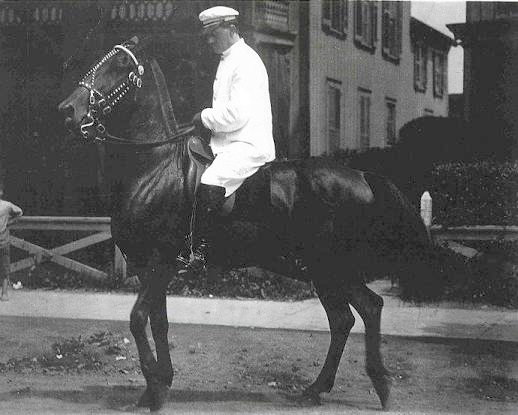 M.C. Illions on his horse "Bob". Illions favorite was used for both racing and carriage.
The mutual trust and respect that emerged during the repeated visits with Rudy Illions, then with his family and soon with his younger brother, Barney, became typical of other alliances that emerged in the carousel revolution: "Cerney" (Cernigliaro) and his daughter, Marguerite, and, later, Bill and Marion Dentzel. These alliances helped to restore dignity and pride in an artistic and cultural heritage which had become obscured and even demeaned over time.


Three generations of Illions: Rudy, grandson Phil

and son Joe. Barney Center. Rolling Hills, April 1, 1973.
The young couple's quest to find an Illions horse for sale led them in 1969 to Marianne Stevens, a no-longer-closeted fan in Roswell, New Mexico, who had tracked down and purchased a group of fire-damaged horses from the Illions Coney Island Boardwalk machine (the site eventually occupied by the Flushing Meadows-bound Stubbmann carousel). They struck no deal but the relationship struck oil. Jo and Marianne would get together and pore over hundreds of photographs, learning to identify almost any carousel figure by the subtle hallmarks of individual carver styles. Those photo flash cards came from the travels of Marianne's friend Gray Tuttle, a South Carolina carousel operator and dealer.
By 1970 this small group of carousel afficionados was poised for direct assault on the wasteland of public indifference. But each knew of only a few others who could share the cause. There was no organizing medium, no rallying cry, no roll to call. Enter the Flying Horses.
In the early spring of 1970 Jim Wells, an antique band organ dealer in Fairfax, VA, advertised some carousel horses for sale in Amusement Business magazine. He claimed they were Illions, though Jo couldn't quite recognize the sample photo he sent of a particularly handsome horse with a "needle" nose, deeply rippled mane and alertly pricked ears (the flash cards had not discovered that rare, early Feltman style, nor was it evident in the Fried "bible"). Whatever it might be, Jo fell in love with it. Armed with a newly-arrived tax refund Rol flew overnight to meet Jim on April 18, leaving Jo, excited and envious, minding the home front with the four young children.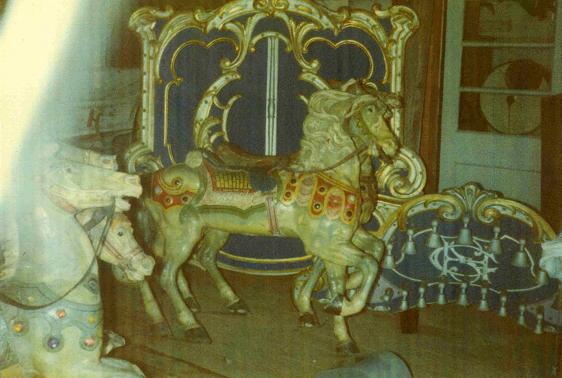 The sample/signature horse at Jim Wells' (in front of a Stubbmann organ).
Jim proved to be an engaging and persuasive salesman. He advised Rol to check out the former World's Fair carousel in Flushing Meadows to verify the concordance with his stock. The whirlwind shuttle to New York made Rol a believer. And Jim's horses, despite their sometimes-shattered condition and the dingy environs of their semi-trailer stables, suddenly shone with a new luster. Here was the chance to buy not just one Illions horse, but dozens of them! And a bunch of Looff carvings, to boot. Rol scrounged around for additional funds and bought the lot.
The arrival of a Bekins van full of blanketed horses caused quite a stir in the rural suburb of Rolling Hills, or at least the brush fire did. Under ordinary circumstances 50 horses would have remained out of public awareness, all spread out to be washed and inspected in the hollow beyond a long, steep driveway. But suddenly the brushy hillside directly across the canyon crackled into roaring flame. The fire dispatcher Jo phoned in alarm insisted on listing the Summit's address, despite Jo's passionate attempts to direct the response to the street on the other side. Sure enough, the engines clogged the street and fire crews grunted up the driveway with bulging hoses, only to find a bizarre but tranquil horse laundry. Their hasty turnaround ran counter to the tide of neighbors streaming up the drive, equally unprepared for the surreal scene at the top.

The fire

After the fire (Jo holding Sheri along with neighbors)
After the fire was quenched and all the looky-loos had dispersed, there finally was time to go back to inspecting the carvings, released now from their years of accumulated grime. Rol noticed a mysterious pattern on the off-side saddle blankets of some of the Feltman horses, little nubbins of something distorting the thick smoothness of the overlying paint. The bumps turned out to be hinges and latches for hidden interior access doors, which Rol could open only when he carefully chipped the margins free of dozens of layers of paint.
Inside were treasures of the past, an unintended time capsule of the fabulous Feltman. There were scraps of ancient sandpaper and whole pages of the New York World from 1902, Indian head pennies and an 1896 dime, Bonomo candy wrappers, paper bunting-wrapped canes and lots of confetti from long-forgotten Mardi-Gras. And there were clues to the reason behind these secret panels: some contained porcelain sockets and Edison carbon filament bulbs. Apparently Charles Feltman had hoped to extend his new-fangled, personally generated illumination into the horses themselves, shining out through the portals of the large, unmirrored jewels. But the Summits found no evidence that the sockets had ever been wired.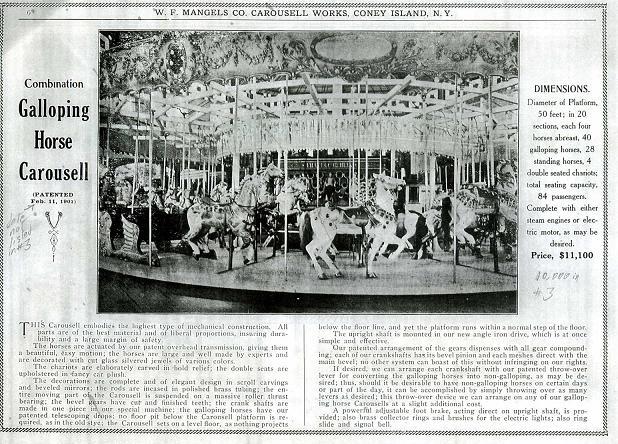 Feltman carousel in Mangels catalog #4. The center horse is shown in the Flying Horses Catalog #F105.
Of course, the fledgling county psychiatrist and his stay-at-home spouse could afford space and capital expenditure to keep only a few of their favorites among the 50 horses, so the couple set out to found an enterprise, Flying Horses, to develop a market for what they would have to share of their extraordinary wares. The remarkable quality and provenance of those carvings deserved an educated, appreciative clientele, something of an oxymoron in those prerevolutionary days (the earlier flood of new recruits was now barely a trickle since Fred Fried's manifesto had passed out of print). And if Jo and Rol couldn't recognize a Feltman-style Illions, who could?
The immediate task was to more fully research the Illions/Coney Island saga and to impart the exciting story to potential customers. Far-flung buyers would need good pictures and accurate descriptions to authorize the cumbersome process of crating and shipping a hundred pound pig in a poke. The few existing dealers mailed mimeographed lists and Polaroid snapshots to promote their familiar, more popular brands (Dentzel, Looff, Philadelphia Toboggan). The Summits' more innovative outreach would require an integrated publication: a catalog, one with a story, with pictures, and with a stated mission of carousel appreciation, restoration and conservation.
The story research created the pleasant obligation to schedule more lengthy, more focused interviews with Rudy and Barney Illions. They and their families warmed to the task, entertaining the Summits in their homes, reconstructing long lost memories and mapping the amusement landscape of Coney. They brought out family photos and company archives. As the text developed it was family reviewed and critiqued for tone and balance. Edo McCullough, author of that colorful book, Good Old Coney Island, whom Rol had met on his epochal visit to Virginia, phoned and mailed contributions, including rare gifts of historic brochures and artifacts.
The pictures emerged from an amateurish, impromptu studio Rol had crammed into one corner of the two-car garage, already packed with close ranks of gorgeous horses. One by one, the horses to be sold were rotated into place against an old black bedspread and caught in the glare of three opposing floodlights. The low-tech production required pasting the Polaroid images on 8-by-11 black cardboard, with labeling supplied by strips of Dymo tape. All that black was too much for the basic print shop, so the photo masters had to be taken to a deluxe printer. The three oldest Summit children formed a production line to edge-dip each of the three photo pages into a pan of glue and insert them into fully a thousand collated and stapled editions.
Jo's cover drawing depicted her favorite "keeper", the love-at-first-sight teaser that had sent Rol flying to Fairfax. That sample horse turned into the "Signature Horse" with a remarkable development: upon inspecting the interior with a flashlight through the newly discovered lightbulb-access panel, Rol discovered that the carver had scrawled "M. Illions" on the top board before the body was glued together.
So was born the first-ever actual catalog of collectable carousel horses and supplies. Once the glue was dry the little books were mailed out to the growing number of previously anonymous merry-go-round mavens who were sending a dollar (refundable with any order) in response to a tiny display ad in Sunset magazine. Those strangest of books went out on that strangest of evenings: Halloween.
The Sunset ad put the Summits in touch with more than 1200 interested fans. So much for the roll to call to revive the revolution! But who would call it? One of the new contacts emerged to rally the troops. Barbara Charles actually lived in one of the apartments above the Santa Monica pier carousel (the one featured in the movie, The Sting). She phoned and requested a meeting to help plan her projected national tour in search of operating carousels. That trip inspired Barbara to become a vocal missionary for carousel research and preservation. It also established an unprecedented photographic and textual archive, forming the basis for Barbara's subsequent articles in such prestigious journals as the Smithsonian (July, 1972).
William Dentzel II was another of the catalog contacts. His namesake uncle was "Hobby-Horse Bill", son of Gustav Dentzel, the grand patriarch of American carousel manufacture. Bill's father had left the Philadelphia factory and moved west, eventually to become mayor of Beverly Hills, CA, also becoming intellectually estranged from his "carnival" origins. Bill took heart from meeting the Summits to reestablish his carousel roots. He learned from Rol how to sharpen chisels and set out to form a contemporary dynasty of carving Dentzels.
Barbara and Fred Fried hatched the idea, in November, 1972, of forming a national organization. Fred secured the use of the Heritage Plantation in Sandwich, MA, for the national get-together he proposed for the fall of 1973. Fred's designated organizing committee was that same emergent circle of boosters: Barbara Charles, Marianne Stevens, Grey and Judy Tuttle, Bill and Marion Dentzel and Rol and Jo Summit. The first official meeting was in March, with the Frieds and Dentzels assembled in the Summit living room and Barbara and Marianne on the phone. Each kicked in $50 apiece for postage to reach some 1200 potential members (only 8 cents postage in those days), almost all of whom were F.H. catalog contacts.
Over 200 people assembled in Sandwich on October 20, 1973, as charter members of the National Carousel Roundtable, later to be named the National Carousel Association. Bill Dentzel was elected as chairman, with other founders from the organizing committee taking key roles for support and development. The N.C.A. went on to become a worldwide leader in carousel research and conservation.
Within less than a decade, Fred Fried's 1964 opening shot had mobilized his chiefs of staff, who recruited loyal troops and marched into national attention; the revolution at Sandwich was noted not only by Time magazine but also in My Weekly Reader, which assured school children all over America that adults cared about merry-go-rounds, too.
Jo and Rol fulfilled their catalog promise to revive Fried's out-of-print epic and to become a source for exotic restoration supplies: eyes, jewels, gold leaf, wooden tails and natural horsehair tails, hide and all. Rol spent weekends down hill and downwind in the "Flying Horses Skunk Works", skinning, trimming, washing and pickling hundreds of tails for whole carousels and individual restorers. The catalog and its The Carousels of Coney Island became benchmarks in the new trend toward researching, preserving and restoring carved wooden carousels rather than deserting and despising their rich cultural and artistic heritage and abandoning them to inevitable extinction.
Suzy and Rol in the "Skunkworks"
(washing, combing out prior to curing an alum-brine solution)

Tails drying

February, 1971
So the Flying Horses catalog provided a defining moment in the renaissance of merry-go-round mentality. The redemption of the orphaned remnants of the Feltman Carousel rekindled some of the same kind of excitement early visitors to Coney Island must have felt in discovering the revolutionary Illions original, as well as the delight inspired in later generations by its World's Fair offspring. Such is the nature of the carousel revolution.
Rol & Jo Summit